Exporting DCR Files from Liberty Player for AutoScript Web
**SPECIAL NOTE**

These instructions work with version 2.0 and 2.6 of the Liberty player. There appeared to be an issue with version 2.5 that was released for only a very short time.
Unfortunately, AutoScript cannot process DCR files created from Liberty or DCR Court Recorder recording solutions. You will have to use the "Export" option to create a WAV file to submit.
Open your file in Liberty Player and follow these steps. (A diagram follows for quick reference)

On the menu, click File then click Export.

For File type select "Wave file (*.wav)"

Click the [Change Format] button. In the Sound Selection dialog choose the Format "PCM" and the Attributes "16.000kHz, 16 Bit, Mono" and click [OK].

Click the [Change Inclusions] button. In the Include Data dialog UNCHECK all the options for notes and click [OK].

For the Target file, select the location and file name you prefer and Click [Export].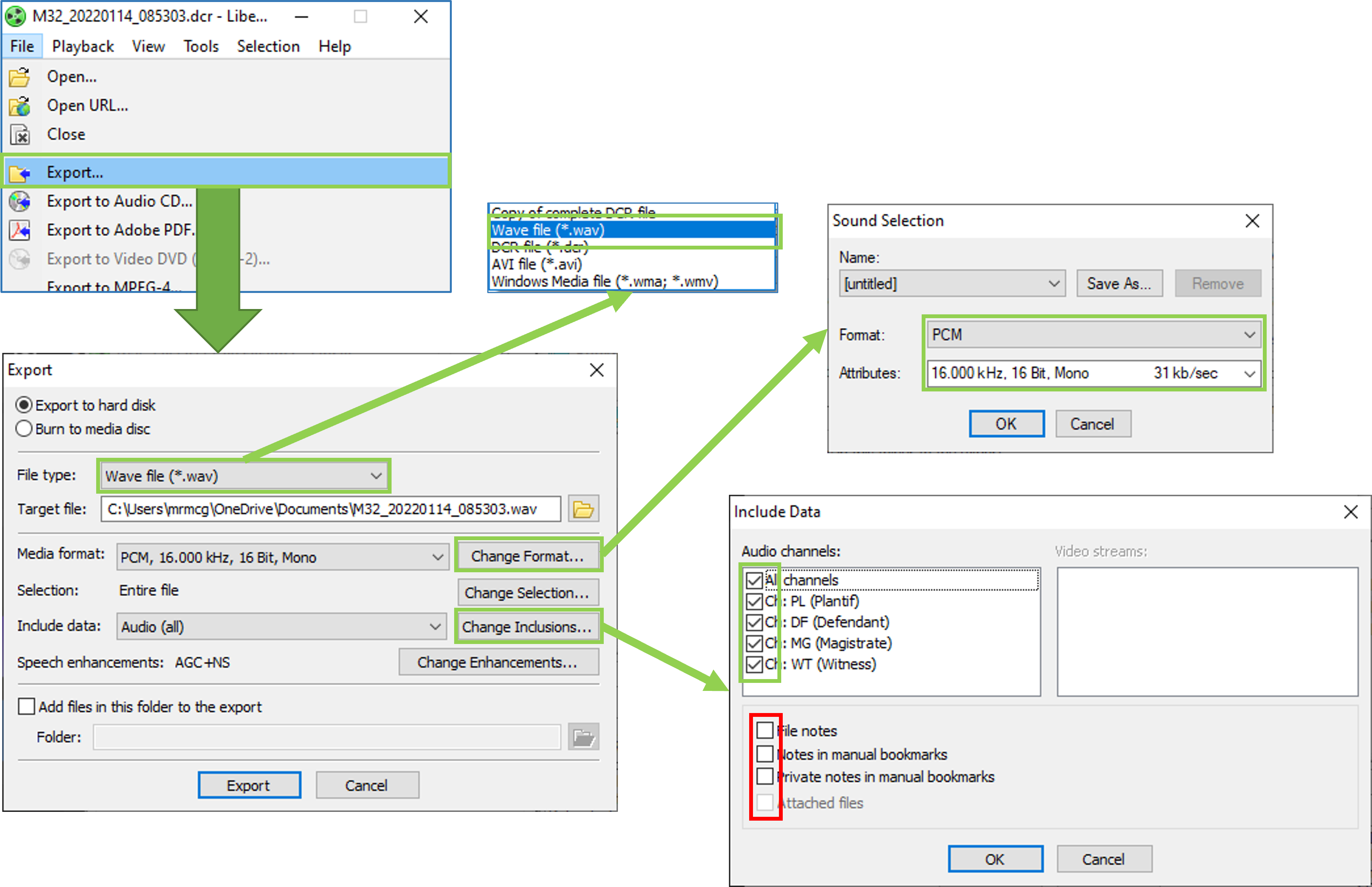 You can now u
pload the newly exported WAV file to AutoScript Web for transcription.
Related Articles

FTR Files on AutoScript Web

Can AutoScript Web Transcribe from Native FTR Files? The short answer is yes. Simply select all of the TRM files from your recording and upload them to AutoScript. There is no need to worry about exporting those files out to a different file type. ...

AutoScript Desktop Manual (1.1.285)

A VoiceScript.ai Product for the Legal Market Last updated 06/15/2023 Introduction AutoScript is the industry's premier Automatic Speech Recognition (ASR) solution designed exclusively for the legal industry. Developed by VoiceScript, a legal ...

Download Public Player for Transcribers

Public Player Want to learn more about Public Player and how to use it? Please watch this short video An Overview on Public Player

An Overview on Public Player

What's New in ASW - 09 May 2023

Coming soon to AutoScript Web... (PDF Download)